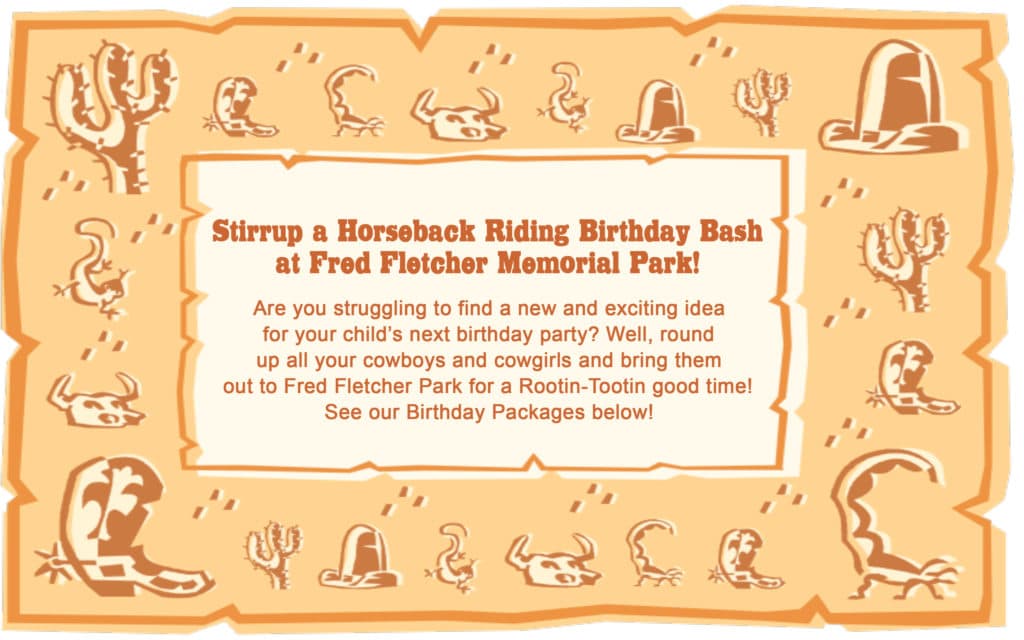 Little Wrangler Package (2 hour party)
Cost: $250 for 12 attendees
$5 per additional attendee
Package includes:
-individual hand-led horse rides 
-dedicated event coordinator
-use of riding helmet/equipment 
-1 hour equine related activities
-1 hour birthday fun
-picnic benches, tables & chairs
-porta-potty availability

Buckaroo Bonanza Package (2 hour party)
Cost: $275 for 12 attendees
$5 per additional attendee
Package includes:
-birthday cake and candles
– plates and napkins
-individual hand-led horse rides 
-dedicated event coordinator
-use of riding helmet/equipment 
-1 hour equine related activities
-1 hour birthday fun
-picnic benches, tables & chairs
-porta-potty availability
The above packages are available Saturdays & Sundays during the hours of 9 am – 7 pm.
Reservations and Cancellations
1. Party reservations should be made as soon as possible and are based on availability.
2. All fees are due at the time of reservation, which must be 10 business days before the party. Party dates and times are confirmed only after payment is received.
3. If a cancellation is made with 3 business days notice then a refund will be processed less a $25 administration fee.
4. Final attendee count is due 3 business days prior to the party.
5. Payment may be made by cash, check, money order, or credit card. Checks should be made payable to BCRP.
The Day of the Party
1. All parties include a party host that will greet your group as they arrive.
2. Please make sure you arrive 15 minutes ahead of time.
3. No storage is available
4. All attendees are required to wear closed-toed shoes.
5. A signed waiver will be required for each attendee.
Questions?
Call (912) 764-5637
Directions to Fletcher Park:
From downtown Statesboro (Courthouse) take North Main Street
(aka 301 South) north. Cross over the Hwy. 80 / 301 North intersection. Continue going straight (north) and turn left onto Lanier Road.  Entrance will be on the left.