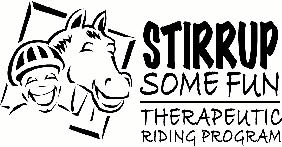 Stirrup Some Fun Therapeutic Riding Program

Our Mission

Our mission is to celebrate the unique gifts and challenges of each individual, encouraging physical, mental, and emotional growth through the horse and human relationship.

Therapeutic Horseback Riding

Imagine children with disabilities or challenging life situations having an opportunity to experience outdoor fun and recreation using the horse as a tool to improve their lives. Therapeutic riding offers these children a new physical and visual perspective of the world that lets them experience the many benefits of riding.

Benefits Include:

• Increased Self Esteem
• Increased Patience
• Increased Confidence
• Improved posture
• Improved balance through transitions from one gait to another
• Improved coordination by use of the reins
• Improved motor skills through mounting exercises
• Improved range-of-motion
• Improved communication through asking horses to walk on, woah, etc.
• Improved flexibility & strength through passive stretches

Sessions

Class Enrollment Deadlines

(space limited and granted on first come/ first serve basis)

$80/ session for Bulloch County residents
$90/ session for non-Bulloch County residents
Sponsors available for financial assistance.

**Postponed until further notice**
Please check back after September 14, 2020 for updated information.

Sessions:
TBA
Classes held on Tuesdays from 4:30 – 7 pm

All classes, training, and assessments are held at the Fletcher Park.
Located on Lake View Road, north of downtown Statesboro. Classes are held in 4-week sessions.

Rider's Enrollment Requirements

All new riders must attend a scheduled "New Rider Assessment" before classes begin.

Stirrup Some Fun (SSF) welcomes new and returning riders to join classes where we offer children with disabilities and special needs a "FUN" way to learn and develop horsemanship skills!

Currently, our classes accommodate riders with a wide range of disabilities and medical conditions including, but not limited to, Cerebral Palsy, Down Syndrome, Spina Bifida, and Autism. Each prospective rider's needs and goals are evaluated on an individual basis to determine if SSF can accommodate their special needs. And a doctor's approval is required before a rider is accepted into the program.

ALL riders must complete the following and make payment of $80/90 in full.

(

Scholarship/financial aid applications are available upon request.

)
**Returning Riders need to complete these forms at the beginning of each new year**:
Rider Forms

Copy of Current Classroom Individual Education Plan (IEP)

*** All New Riders must attend the New Child Assessment Clinic PRIOR to the initial class session in which the rider is enrolled. Eligibility for classes will be determined at this assessment. If the program does not appear to meet the child's special needs, the $80 registration fee will be fully reimbursed to the rider. The assessment team may include the physical therapist, occupational therapist, instructor, an advisory committee member(s), volunteer(s), and others, as needed.***

All applications, forms, class schedules, enrollment deadlines, and New Child Assessment Clinic schedules are available at the SBCPRD Honey Bowen Bldg., next to Holiday's Pizza on Fair Rd (Hwy 67).

Stirrup Some Fun Hotline:

Call our Stirrup Some Fun Hotline at 912-489-9059 prior to class for a pre-recorded message indicating whether class is postponed. We'll also post that information on our web-site at www.bullochrec.com on class day.

Volunteers

Volunteering with Stirrup Some Fun is a truly amazing experience. Volunteers have the opportunity to work with the riders, work with the horses, take pictures, help with fund-raising or with administrative duties. It does not matter whether you're a "horse person" or not, our special riders can use your help! Every volunteer is invaluable to the program.

Training Sessions

To ensure the safety of every rider and volunteer, any one wishing to help with the riding classes must first complete one of our Volunteer Training Sessions and complete our Volunteer Forms. Doing so qualifies you to volunteer at any of our SSF Therapeutic Riding Classes. Can't make the upcoming Volunteer Training Session? Then please plan to attend one of our future Volunteer Training Sessions, which will be offered at various times throughout the year. To find out more, please see our contact information above.

Sessions:


TBA

Volunteer Form

Directions to the Fred Fletcher Memorial Park

Fred Fletcher Memorial Park , located on Lakeview Road, north of Statesboro.

From downtown Statesboro (Courthouse) take North Main Street (aka 301 South) north. Cross over the Hwy. 80/ 301 North intersection. Continue straight (north) and turn left onto Lanier Road. Entrance will be on the left.

The Stirrup Some Fun Program is always pleased to accept donations to help offset the cost of items needed to run the therapeutic horseback riding program. Stirrup Some Fun is a part of a non-profit 501 C (3) organization (Statesboro-Bulloch County Parks and Recreation) and as such, will upon the receipt of your gift, send you a receipt for tax purposes. Please make your check payable to SBCPRD (with a reference to Stirrup Some Fun on the Memo line) and mail to Stirrup Some Fun, P O Box 408, Statesboro, GA 30459.

We are pleased to accept any amount you would like to give.
Thank you so much for supporting such a worthwhile program.

 
For more information, call 764-5637.