Scores and standings:
2022 OPEN SUMMER SOCCER LEAGUE FINAL STANDINGS updated 8/22/22
Summer 2022 Adult Soccer Champion: Los Contratados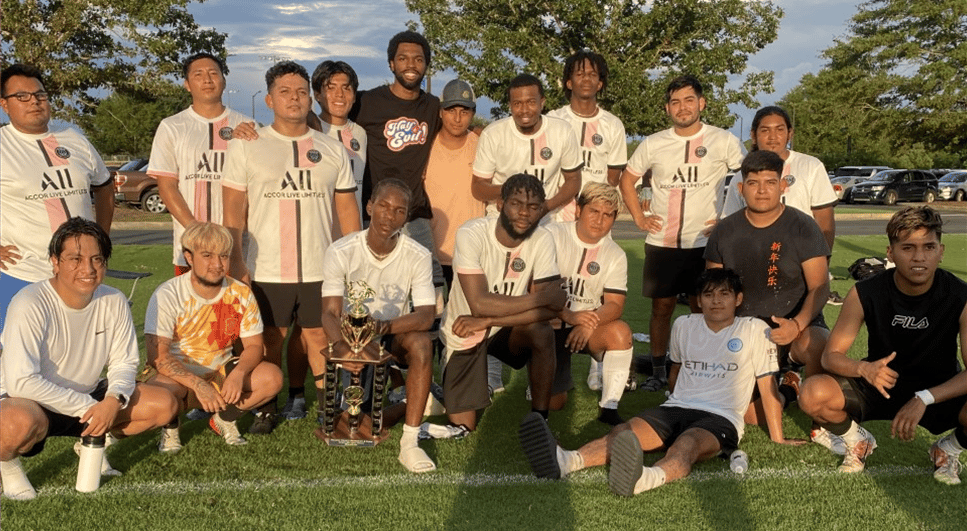 Summer 2022 Adult Soccer Runner-up: Michoacan
Final Regular Season Standings
Team                                                         Games Played                                        Points
Los Contratados                                      6                                                                13
Real Madrid                                             6                                                                10
Michoacan                                               6                                                                 10
Pumas                                                       6                                                                  7
Compas                                                     6                                                                 6
New Covenant Church                           6                                                                 6
Adult Soccer

For Information on the Fall 2022 Adult Soccer League starting in October please contact Lenard Robinson at 912-489-9054 or Lrobinson@bullochrec.com.

Games will be played Sundays starting at 4:00 P.M. Teams will play 8 regular season games and tournament to determine champion.

All regular season games can end in a tie. Tournament games ending in a tie after regulation play ends will have one 15-minute overtime period. If a tie still exist after the overtime period teams will then go to penalty kicks.

Teams will receive 3 points for a win, 1 point for a tie, and 0 points for a loss.

Recommendations are to play 11 vs 11. Field dimensions will be 100 yd by 60 yd.

Game time is forfeit time. Teams with missing players can start with at least 8 players. Players that show up after the game has started will be allowed to join the game up until the end of the first half.

Players who do not have a team are able to join free agent pool by contacting Lenard Robinson at 912-489-9054 or by emailing Lrobinson@bullochrec.com.

If interested, please contact Lenard Robinson by email at Lrobinson@bullochrec.com, or by calling 912-489-9054.